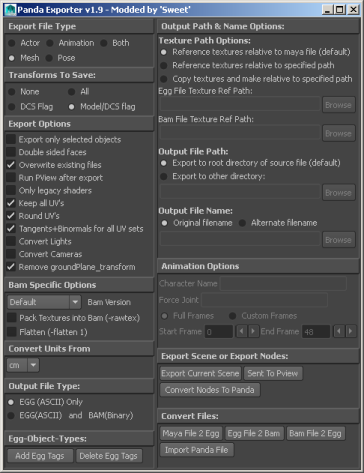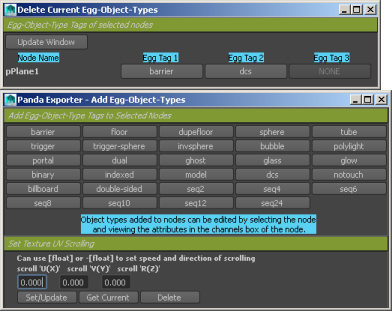 Hello,
Attached you should find an actual working attachment of the MayaPandaUI Maya script files. When I first encountered this tool in the Panda3d installation, I had many issues with it not running, not fitting on the screen, (the height was stuck higher than my monitor resolution), to the commands not working in other versions I found & tried on the internet. So, I decided I would dig my way through the Mel scripting language. I learned a lot through trial and error while working on this script, and in the end, it has paid off. I bring to you, this modified, working version. I hope those that use this find it as helpful as I do.
As the picture depicts, I added numerous feature buttons for exporting and file conversions. The script had the base of the code in it, just no way to use them. I have also added numerous egg-object-types to a UI to tag your geometry with; as well as a UI to remove tags from geometry.
There is an included "Instructions.txt" file in the download archive attachment that explains what files need to go where to have this work in your Maya. (since the plug-ins directory of Panda do not have them for Maya)
Would love to hear any compliments or issues with this updated version.


Revision History
(Current revisions only are listed to save screen space.)
(see release_notes.txt for full revisions)
//////////////////////////////////////////////////////////////////////////////////////////////////////////////////
// -
// - 07/11/2017 : Mods by Sean /a.k.a. "Sweet" (primary coding was done 07/06/2016)
// - Added support to the following processes to handle converting multiple files at one time.
// - --MP_BrowseForFile, MP_GetEggFile2Bam, MP_GetMayaFile2Egg, MP_GetBamFile2Egg,
// - --MP_ImportPandaFile
// - By adding multiple file support,
// - --The script can now process more than one file at a time when performing these tasks.
// - Example: User wants to convert multiple files from eggs to bams.
// - --After clicking on the appropriate button to start processing, user can use standard windows function of
// - ----holding down the shift or control keys and click on the file(s) to select for conversion.
// - --The script will then process all the selected file(s) one at a time.
// - !!!WARNING WHEN USING MULTIPLE FILE CONVERSIONS:!!!
// - When attempting to convert multiple files, DO NOT USE THE CUSTOM NAME FEATURE. Doing so
// - --gives EVERY FILE the same export name. This will result in only the last file being created,
// - --as all previous files will have been over-writen by the previous file as they are created.
// - Added "MP_" suffix every process and many variables so the script cannot interfere with other scripts.
// - Added GUI checkBox and needed function(s) to remove the "groundPlane_transform" tuple from exported
// - —egg MESH files.
// - --While this Maya node is normally empty, care should be taken to ensure it is empty when exporting.
// - --Otherwise there runs the risk of data loss in the egg/bam file(s).
// -
// - 10/01/2017 : Mods by Sean /a.k.a. "Sweet"
// - Added the ability to add UVScroll values to nodes via the "Add Egg Tags" GUI.
// - Recoded the way confirmDialogs pull their menu and annotation values.
// - Added egg-object-type button annotation.
// —Now, descriptions pop up, when the mouse is hovered over the button(s), that describe what each
// - ----button is for.
// - --This annotation was primarily taken right from the Panda3d information.
// - Added release notes from original developer that were missing from the version I initialy used to
// - ----rewrite this script.
// —Why 'Ben Chang' left these out from his version, I have no idea.
// —But, I added them so the original developers would get their credit.
// -
/////////////////////////////////////////////////////////////////////////////////////////////
NOTE: If there is NOT a userSetup.Mel file in the directory specified in the instruction.txt file,
you can/must manually create the file using any text editor.
Files in Archive:
MayaPandaUI.mel
eggImportOptions.mel
Panda Exporter_v1.9.png
Panda Exporter_v1.9_EggObjectTypesWindows.png
release_notes.txt
instructions.txt
MayaPandaUI_v1.9.zip (144 KB)