I am trying to use Shadow mapping (from this thread) and I have strange texture lookup problem.
Basically, the displayed textured are not what they should be.
Note that I am no shader expert, but It looked quite solid. I am puzzled.
Ideas are welcome.
Here follows screenshots with and without the shader.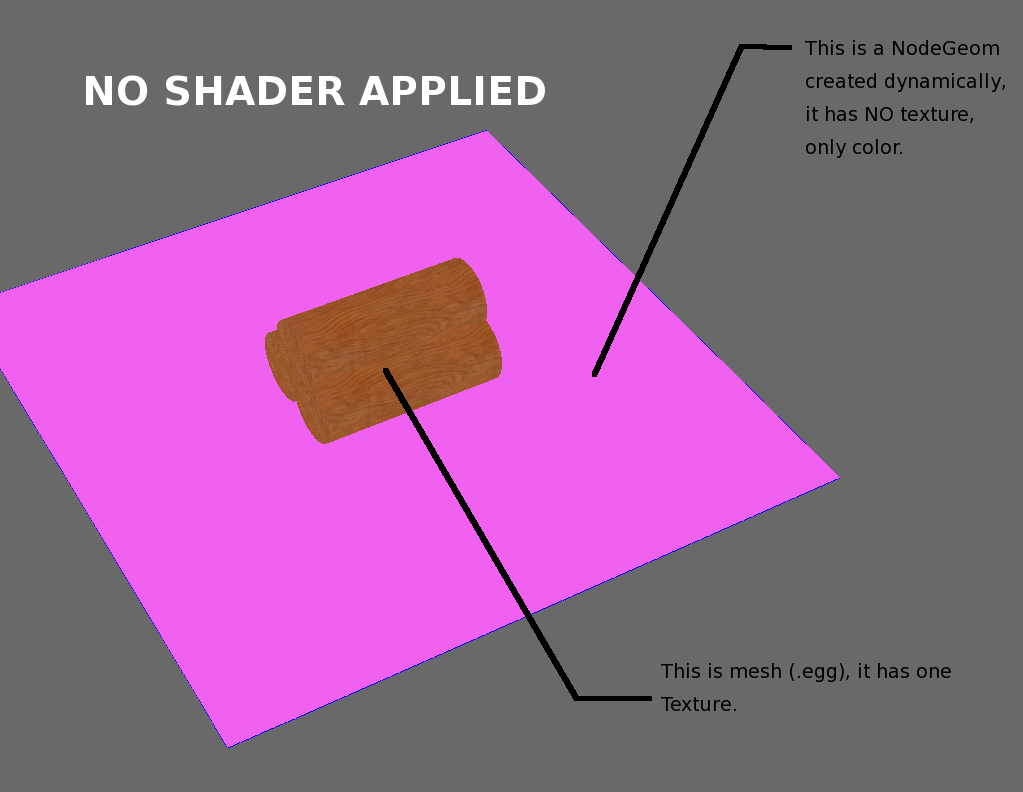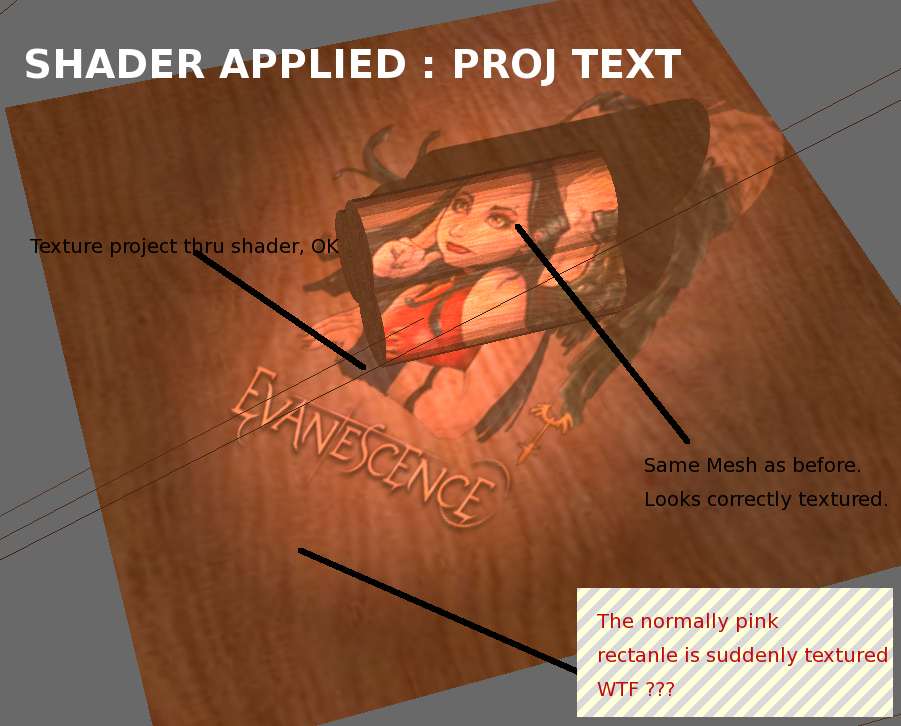 First the python code :
class CameraShadow(CameraQuake):
    def __init__(self, *args, **kw):
        CameraQuake.__init__(self, *args, **kw)
        self.firsttime = True

    def start(self):
        if self.firsttime :
            self.firstactivation()
            self.firsttime = False
        #==
        CameraQuake.start(self)
        self.activate_shader()

    def stop(self):
        CameraQuake.stop(self)
        self.deactivate_shader()

    def firstactivation(self):
        self.cutout = CutoutMgr()
        # creating dummy nodes to hold the light
        spotDum=render.attachNewNode('spot')
        spotholder=spotDum.attachNewNode('holder')
        spotholder.setPos(100,100,100)
        spotholder.lookAt(0,0,0)
        
        mapsize=1024   # depth map size
        mapscale=1.0/mapsize;
        self.Ldepthmap = Texture()
        # IMPORTANT !
        self.Ldepthmap.setFormat(Texture.FDepthComponent)  # to store depth value instead of color
        self.Ldepthmap.setMinfilter(Texture.FTShadow)      # to use OpenGL SGIX_shadow extension
        self.Ldepthmap.setMagfilter(Texture.FTShadow)
        LBuffer=base.win.makeTextureBuffer('depthmap', mapsize, mapsize,self.Ldepthmap)
        self.LCam=base.makeCamera(LBuffer)
        self.LCam.reparentTo(spotholder)
        self.LCam.node().setScene(render)
#        self.LCam.node().getLens().setFov(40)
#        self.LCam.node().getLens().setNearFar(.1,1000)
        self.LCam.node().showFrustum()
        ratio = 4/3.0
        size = 2
#        self.ortho_lens = OrthographicLens()
#        self.ortho_lens.setFilmSize(size*ratio,size)
#        self.LCam.node().setLens(self.ortho_lens)
        # WARNING !  scale the camera accordingly to match your scene size
        self.LCam.setScale(8)

        # default values
        self.lightIntensity=1.8
        self.Xoffset=0.0009765
        self.Yoffset=0.0009765
        self.Doffset=-0.0000239
        # set the shadow weight according to the light intensity, change the contrast here
        self.shadowWeight=.25

    def deactivate_shader(self):
        render.clearShader()

    def activate_shader(self):
        if not self.shaderSupport():
            OnscreenText(text = 'Shadow does not supported by your graphics hardware.', fg=(1,1,1,1),scale=.1)
            return
        #==
        self.base.setFrameRateMeter(1)# pour voir les fps

        # shader setup
        shadowshader = Shader.load('HW shadow 2Lights_mine.sha')
        render.setShader(shadowshader)
        render.setShaderInput('light',self.LCam)
        render.setShaderInput('Ldepthmap',self.Ldepthmap)
        render.setShaderInput('cutout',self.cutout.images[0])
        render.setShaderInput('offset',Vec4(self.Xoffset,self.Yoffset,self.Doffset,0))
        render.setShaderInput('lightIntensity',Vec4(self.lightIntensity,0,0,0))
        render.setShaderInput('shadowWeight',Vec4(self.lightIntensity*self.shadowWeight,0,0,0))
        render.setShaderInput('texScale',Vec4(1,1,0,0))
        RGB = changelight(self.lightIntensity)
        lightcolor=Vec4(*RGB)
        render.setShaderInput('lightcolor',lightcolor)

    def shaderSupport(self):
        return self.base.win.getGsg().getSupportsDepthTexture() and self.base.win.getGsg().getSupportsShadowFilter()
And the Shader :
//Cg



void vshader(float4 vtx_position : POSITION,
             float2 vtx_texcoord0: TEXCOORD0,
             float3 vtx_normal: NORMAL,
             uniform float4x4 trans_model_to_clip_of_light,
             uniform float4x4 mat_modelproj,
             uniform float4 mspos_light,
             uniform float4 k_offset,
             uniform float4 k_lightIntensity,
             uniform float4 k_shadowWeight,
             uniform float4 k_texScale,
             out float4 l_position : POSITION,
             out float2 l_texcoord0 : TEXCOORD0,
             out float4 l_texcoord1 : TEXCOORD1,
             out float l_downScaledSmooth,
             out float l_side_Self_Shadowing_Artifact_Removal
             )
{
float4x4 scaleBiasMatrix = {
0.5f,0.0f,0.0f, .5+k_offset.x,
0.0f,0.5f,0.0f, .5+k_offset.y,
0.0f,0.0f,0.5f, .5+k_offset.z,
0.0f,0.0f,0.0f, 1.0f};
// vertex position
l_position = mul(mat_modelproj, vtx_position);
// transformation to the light's clip space
float4x4 textureMat = mul(scaleBiasMatrix, trans_model_to_clip_of_light);
// apply texture transform on particular nodes, if changed on-the-fly
l_texcoord0 = vtx_texcoord0*k_texScale.xy;
l_texcoord1 = mul(textureMat, vtx_position);
/*  ------preserving smooth shading---------
 smooth = (vtx normal) dot (vector from vertex to the light) */
float smooth = dot(vtx_normal, normalize(mspos_light - vtx_position));
/*  scale down the smooth shading result and add shadowWeight,
to maintain visual rasionality against the lightweight shadows */
l_downScaledSmooth = (k_shadowWeight.x + (k_lightIntensity.x-k_shadowWeight.x)*.5*(smooth+1.0));
// uncomment the next line and comment the next one to see the difference
//l_side_Self_Shadowing_Artifact_Removal=smooth;
l_side_Self_Shadowing_Artifact_Removal = abs(smooth)*(smooth+.2);  // however, this is experimental, but the result is quite acceptable to cover self-shadowing artifact on objects' side
}

void fshader(float2 l_texcoord0 : TEXCOORD0,
             float4 l_texcoord1 : TEXCOORD1,
             in float l_downScaledSmooth,
             in float l_side_Self_Shadowing_Artifact_Removal,
             uniform sampler2D tex_0 : TEXUNIT0,
             uniform sampler2D k_Ldepthmap,
             uniform sampler2D k_cutout,
             uniform float4 k_shadowWeight,
             uniform float4 k_lightcolor,
             out float4 o_color:COLOR)
{
float4 baseColor = tex2D(tex_0, l_texcoord0)* l_downScaledSmooth;
// perspective divide, or switch from 4D to 3D
float3 shadowUV = l_texcoord1.xyz / l_texcoord1.w;
// only apply shadow & light inside light's frustum --> UV ranges 0..1
if(shadowUV.x>0.0  &&  shadowUV.x<1.0  &&  shadowUV.y>0.0  &&  shadowUV.y<1.0)
    {
    float4 cutout=tex2D(k_cutout,shadowUV)*k_lightcolor;    //// the light texture
    // hardware depth compare 
    // float shade = tex2Dproj(k_Ldepthmap, l_texcoord1);//shadowUV.xy);
    float shade = tex2D(k_Ldepthmap,shadowUV.xy);
    // if shade=0 (fully shadowed), shadowWeight is added to achieve lightweight shadows,
    // or else it would end up purely black 
    o_color.rgb = baseColor.rgb * ( cutout*shade*l_side_Self_Shadowing_Artifact_Removal + k_shadowWeight.x );
    }
// outside the light's frustum
else
    o_color.rgb = baseColor.rgb * k_shadowWeight.x;
// preserving textures' alpha channel
o_color.a =  baseColor.a;