Hi everyone.
I'm happily using Panda3D from 1 year now and I like it a lot


Now I have a small issue with transparency, I think it should be easy to solve but I lack the required knowledge.
I have a few flat 'ribbons' (all have zero Z) overlapping / com-penetrating each other. They all have the same color, only alpha is changing along with the distance from a point. The goal is to have a simple fading effect: the higher distance, the more transparent the ribbon is, until it completely fades away.
It works ok, but in the overlapping parts the color is brighter and it flicker like in the picture below: red regions not ok.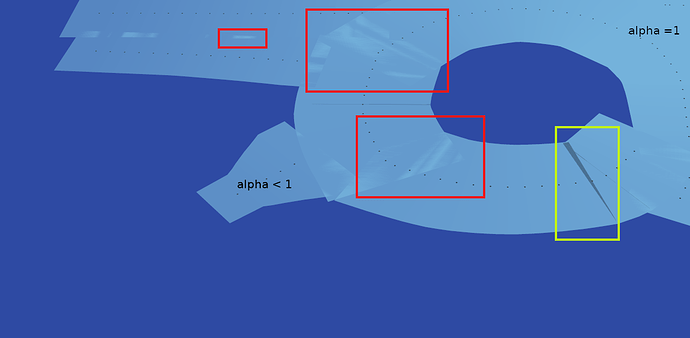 My goal is to 'fuse' the ribbons together so that it looks like a unique surface and the color changes smootly; the overlapping regions not visible.
The ribbons are generated at runtime from a live datastream I have no control on. I used GeomTriangles and GeomVertexData to create the geometry; color and alpha are assigned to each vertex.
I tried to use
ColorBlendAttrib::make(blend_mode, operat_a, operat_b, alpha_blend_mode, alpha_op_a, alpha_op_b)
but it seems that only the rgb part was having effect while the alpha part was not having any visible effect.
I also tried the DecalRenderAttrib again with no visible differences.
As a bonus, I'd like those ribbons to be able to 'receive' shadows from other objects over it, but not to cast shadows themselves: yellow region in the picture.
Any help would be appreciated.
Thanks!