Hello everyone
over the last time I've been working on two guide books tailored towards Panda3D and Blender users. For more information on each book, just scroll down and read their description and chapter overview.
Note, both books haven't been extensively review yet, so expect some flaws and errors in them and that's also where I'd like you, the readers, to get active. I appreciate any feedback that you can give me for the books to make them better and more useful for P3D newcomers and advanced users alike.
The books are fully open sourced and can be copied and shared. The sources of both books will be available on our website, Grimfang-Studio.org and through github.
Panda3D Game Development
The first book gives an overview and teaches anything regarding game development, starting from the first spark of an idea over designing it all the way through developing it with our most favorite engine, Panda3D, till the end when you're going to release it to the public and beyond.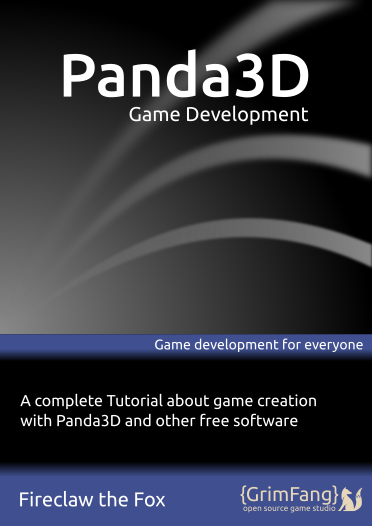 116 Pages
Quck chapter Overview:
CHAPTER 1: IMAGINE
The first chapter is about finding ideas and carve them into fully fledged game designs.
CHAPTER 2: PREPARE
This rather short chapter is about getting things ready for you to develop games with all open source tools, it's about installing and preparing the workspace.
CHAPTER 3: DEVELOP
The 3rd chapter may be the most P3D specific one, here we will write a small game and learn tips and tricks about developing with the engine.
CHAPTER 4: RELEASE
Finally after creating a game you want to release it to the public. So this chapter gives you some insight on how this can be done.
CHAPTER 5: THE NEXT VERSION
Having a finished game doesn't mean you can lay back long. This chapter gives some notes about what can be done after a successful release.
Get the book: Download book 1
Get the sources: Download sources to book 1
Github: https://github.com/fireclawthefox/panda3d-tutorial
Panda3D Art creation with Blender
My second book is about creating game ready models with Blender. It is not really a step by step guide to create a model but it should give you enough insight on the specific parts that an artist who want to get started with blender or already knows it but want to get started with games, to know enough to get into game model creation. At the end, what and how you create things is a very artistic task and anyone has a different taste, so this book just gives hints and some basic workflow tips and tricks.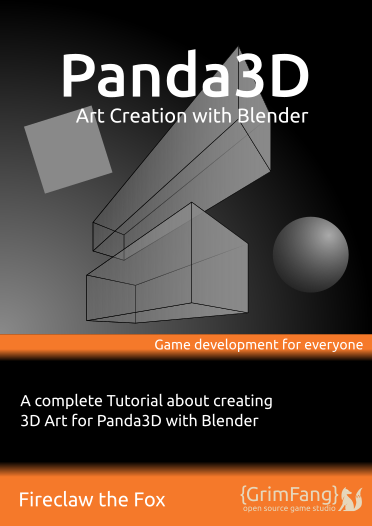 69 Pages
Quck chapter Overview:
CHAPTER 1: BASICS
The first chapter is teaching the usage of blender like how to navigate, using the layouts etc. If you already know blender you could skip this one.
CHAPTER 2: CHARACTER CREATION
Chapter 2 will tell you many little things about what's needed to create a character from modelling and texturing over rigging till animating it.
CHAPTER 3: ASSET CREATION
This chapter is a rather short one, it gives you some information about creating assets that will be used to be put in a greater level.
CHAPTER 4: LEVEL CREATION
The level creation chapter will teach how to get the assets one has done into a level file so blender can be used as a level authoring tool.
CHAPTER 5: EXPORT
This is the most Panda3D specific part of this book, it shows up how to get your models correctly exported with YABEE.
CHAPTER 6: MORE INFORMATION
In chapter 6 I added community blender plugin projects and some useful websites with further extended tutorials that I've been learning from myself and which are going deeper into specific areas that would otherwise not fit in a book as short as this.
Get the book: Download book 2
Get the sources: Download sources to book 2
Github: https://github.com/fireclawthefox/panda3d-tutorial2
NOTE: The sources that come with this book aren't completely done yet, there's only a model for a new roaming Ralph version. This new Ralph model and the upcoming models shipped with it should better be discussed in this already created thread for new example models: Better models in samples
I hope these books will help you creating awesome Panda3D applications. And as said before I'd appreciate any feedback that you can given on them.


Your's sincerely
Fireclaw
update1
added git repo for book 2
update2
updated book details
update3
updated links and fixed unsupported old-style formatting