Hello everyone I'm new to panda3d, so my question might be stupid. I create a model in Blender and try to light it with PointLight and face unexpected effects. Here is my code
class MyApp(ShowBase):

    def __init__(self, scale=0.1):
        ShowBase.__init__(self)
        
        self.model_scale = scale
        
        kitchen = self.loader.loadModel('/home/stanismorozov/python3d/models/kitchen.bam')
        
        for t in kitchen.children:
            if t.name == 'Walls':
                self.room_box = t
                mn, mx = t.getTightBounds()
                self.room_abs_sizes = mx - mn                
        
        self.light_model = self.loader.loadModel('models/misc/sphere')
        self.light_model.reparentTo(self.render)
        self.light_model.setScale(0.1, 0.1, 0.1)
        
        
        
        self.room_box.reparentTo(self.render)
        self.room_box.setScale(self.model_scale, self.model_scale, self.model_scale)
        self.room_box.setHpr(0, 0, 0)
        self.room_box.setPos(0, 0, 0)
        
        
        self.ptlight = PointLight('plight')
        self.plnp = self.light_model.attachNewNode(self.ptlight)
        self.render.setLight(self.plnp)
        
        self.taskMgr.add(self.move_light, 'move-light')
        
        
    def move_light(self, task):
        ft = globalClock.getFrameTime()

        self.light_model.setPos(self.room_abs_sizes[0] / 2 * self.model_scale + cos(ft) * 5,
                         self.room_abs_sizes[1] / 2 * self.model_scale  + sin(ft) * 5,
                         (self.room_abs_sizes[2] + 10) * self.model_scale)
        
        return task.cont

app = MyApp()
app.run()

Here's an example of how it looks like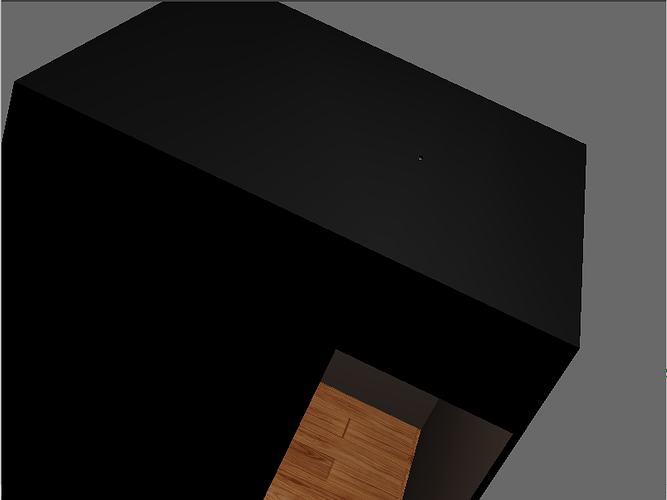 The first unexpected thing for me is that the box is lit from the inside, although the light should not pass there. The second is that the sphere corresponding to the point source is only half illuminated. It seemed to me that point light should shine equally in all directions. The third thing is that the upper side of the box is almost black, although it has a white texture, that is, it is almost not lit.
Also the change of light color
self.plnp.setColor((0, 0, 10, 1))

has no effect.
I didn't find any documentation describing my problems, so I would be grateful for any tips and materials!