I am reviving up this thread, because although it is very old, my current problem seems to be similar. My setup is macOS on M1, Panda 1.10.11, and Python 3.9. I mainly visualise point clouds (1-2 objects at the same time, never fully visible, each for 200,000 points - I don't know if it's a lot or a little?). Points usually bold to a few pixels, plus a few Common Filters (but this, as I understand it, is processed in the GPU). Example below: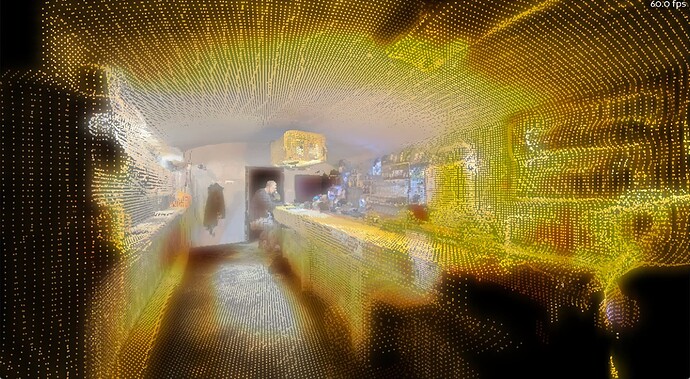 Generally it is smooth, 60 fps. But sometimes this fluidity gets cut (the refresh rate can drop to even around 30 fps). And this is not clearly related to what is happening in the image or in the code. What's more, I can see quite a clear difference between launching the code from PyCharm (in which I am developing the application), and launching the code of the standalone built application. In the latter case, there are fewer fps trims.
Out of curiosity, I tried to set
sync-video 0
in
Config.prc
and it turns out that normally, I can easily achieve 70-80 fps. Great, but what about it, when from time to time I still have, for fractions of a second, drops to 30 fps - very frustrating.
So I conclude that this is not a performance problem with my application, but an interaction with the operating system. For some reason, when something is happening in the background my application is losing CPU cycles. Is there any way to force an increase in the priority of my application? This is a real-time application, and really for the moment it is running, I don't need any priority for all the junk that normally runs in the operating system in the background. Of course, theoretically, I could kill all these competing processes, or even install up a new operating system, but I would like any other user not to have to do something like that - let my application itself take the highest priority for the duration of the operation.
I tried a few solutions from the thread above, but without any visible, positive effects.