All,
I am using DirectionalLight with setShadowCaster on and default shader (render.setShaderAuto). This causes the planar surface on which the shadows are cast appear imperfect with a jagged appearance/ripples/concentric circles (see attached pic).
There have been some previous discussion on this topic in the forum and the solutions ranged from changing depth offset, depth bits, setting two sided, anti-aliasing, film size etc. None of this fixes the issue for me. My graphics card is Radeon RX Vega 10 and I use pandadx9 (but same issue with opengl as well). I've heard that shadow issues don't occur in NVidia - but I can't test on it.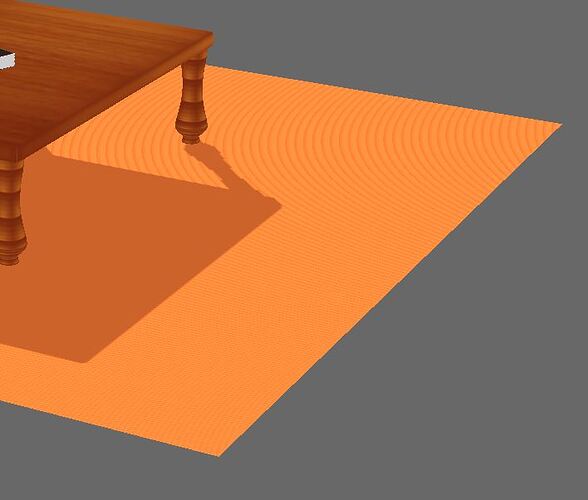 Below is relevant code for reference. If it helps, some h (e.g. 180) have lower ripples than others (e.g. 45). The problem is triggered only when shadows are on.
dlight = DirectionalLight(f'dlight')
dlight.setColor((1, 1, 1, 1))
dlnp = render.attachNewNode(dlight)
dlnp.set_pos(0, 0, 0)
dlnp.setHpr(45, -150, 0)
dlight.setShadowCaster(True)
bmin, bmax = self.scene.get_tight_bounds(dlnp)
lens = dlight.get_lens()
lens.set_film_offset((bmin.xz + bmax.xz) * 0.5)
lens.set_film_size(bmax.xz - bmin.xz)
lens.set_near_far(bmin.y, bmax.y)

Wondering if there is some latest suggestions on this topic that I have missed. Thanks in advance.