Hi to all,
I am generating procedural geometry and for some reason, there appear to be holes or empty lines in between two adjacent faces at certain points as I move around the scene; sometimes they show, other times they don't. I tested it on both an old and new computer and the error exists in both computers, albeit it is more patent in the older computer than the relatively newer one. Here is the error as it appears in the old computer: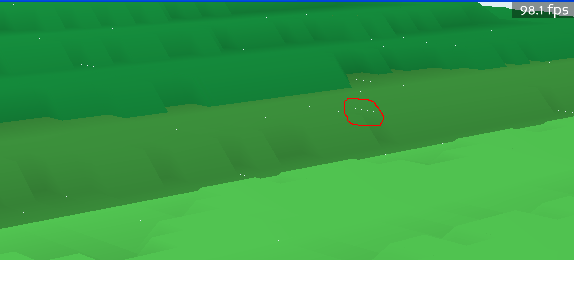 The specs for the old computer:
System:
OS- Windows xp professional 32-bit (5.1, build 2600)
system model: dell optiplex 360
Processor: Pentium (R) Dual-Core CPU E5300 @ 2.60 GHz (2 cpus)
Memory: 1024 MB RAM
Directx version: 9.0c (4.09.0000.0904)

Display:
Intel(R) G33/G31 Express Chipset Family
Chip Type: Intel(R) GMA 3100
Total Memory: 384 MB
AGP Texture Acceleration: none

Drivers:
Main Driver: igxprd32.dll
Version: 6.14.0010.4957
Mini VDD: igxpmp32.sys
DDI version: 9(or higher)
And here is the error as it appears in the newer computer:

Another one from the newer computer:

Specs for the newer computer (a laptop…):
System:

OS- Windows 8.1 Pro 64-bit(6.3 build 9600)
System model: HP 2000 Notebook PC
Processor: AMD E-350 Processor (2 CPUs), ~1.60 GHz
Memory: 3072MB RAM
DirectX version: DirectX 11

Display:

AMD Radeon HD 6310 Graphics
Chip Type: AMD Radeon HD 6310 Graphics (0x9802)
Memory: 1526MB
AGP Texture Acceleration: enabled

Drivers:

Main Driver: aticfx64.dll,aticfx64.dll,aticfx64.dll,a
Version: 13.251.9001.1001
Feature Levels: 11.0,10.1,10.0,9.3,9.2,9.1
Driver Model: WDDM 1.2
Now I understand if the error can't be helped with the older computer since I'd probably be advised to move on from such antiquated systems (though I am intentionally using it so that the game I'm building has, in terms of system specs, a really low barrier to entry) but as you can see, the error still exists in the newer computer. I am using this version of Panda3d :
9bfc425b75c013a656e158b2ee032c51efb30451
 - 2017-12-12T22:27:51Z
and I have not set any special settings on the config file. What could be the issue?
Thanks in advance.