Hi there!
I am new and not sure, if it is the correct proceeding to just post here. I am having a similar issue as described by K9Kraken, in so far as the colors in panda3d are way darker than in Blender, though I do not use the Panda shader, but the Blender shader only.
I am using a Principled BDSF shader in Blender, so sRGB should not be the problem, right?
I saved the Blender file as a .blend and then used the blend2bam commandline tool of Moguri with the following options: blend2bam --pipeline=gltf -m=pbr --physics-engine=bullet [my src] [my dest]
I am new to all this, and not sure if this is a lighting issue or an importing issue.
Unfortunately, as a new user, I cannot upload attachments and only one picture, so I crammed all the information into one shot (the blender look, the panda look and the blender shader I used) :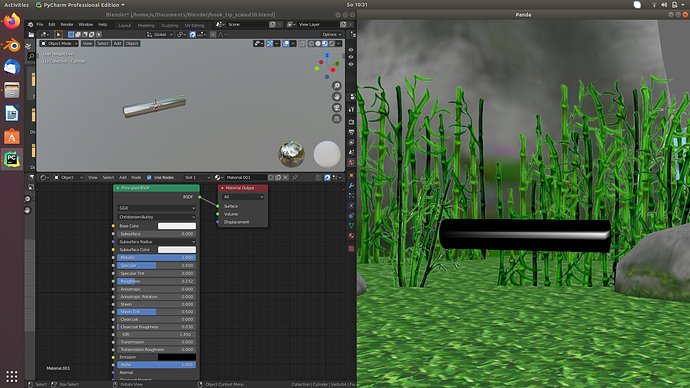 EDIT: I read up about trust levels and now I can!

hook_tip_scaled10.blend
(541.4 KB)
Please also tell me about any etiquette the discobot didn't teach me and that I missd! Thank you!