Hi everybody

!
Are you sometimes frustrated by problems related to the export-import pipeline from your modelling program to Panda3D?
Perhaps you don't even really like to use any of the modelling programs out there, because they're too expensive (3dsmax, Maya, …), have too steep a learning curve, or because it's confusing that certain object properties don't match Panda3D's representation (e.g. material attributes in the modelling program vs. render attributes in Panda3D)?
Wouldn't you rather just create your game assets right inside of Panda3D itself, using a nice graphical frontend that allows comfortable modelling, texturing and animating, without having to worry how it will all end up looking in your actual project?
If this is something you are longing for, then your pipeline nightmare may soon turn into a pipe dream come true

!
Ladies and gentle panda's, may I present to you a project made with Panda3D for Panda3D: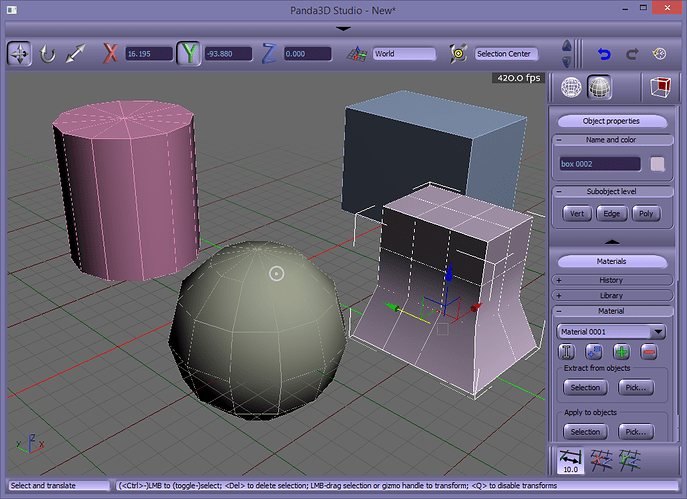 Here are some recent videos:
Panda3D Studio - Model creation and editing
Panda3D Studio - The History Editor
Panda3D Studio - Materials and textures
Panda3D Studio - Milestones in History Editor
Panda3D Studio - Multitexturing
…and some older videos:
Panda3D Studio - Sphere creation
Panda3D Studio - Fun with transforms
Panda3D Studio - The grid
Panda3D Studio - Materials
This is a personal project of mine that I started a long time ago and that I would like to share with this community in the near future. At the moment it's still very limited (it looks like it won't even start on Linux, because of some problems I'm having with wxPython) and it's sorely lacking some features that I probably don't have the skill to implement myself, so it would be nice if more experienced members of this community could contribute to it (which is why I will try to put it on GitHub).
As soon as I've cleaned up the code a bit and managed to get it onto GitHub I'll create a new topic for it in the Showcase forum.
In the meantime, feel free to use this announcement topic to share your thoughts about this project.
Now I do realize that most people will stick to Blender or whatever they're using, but even if Panda3D Studio will never be able to compete with such programs, it could still be used to fix up some errors in your models caused by export problems, for example.
My personal goal is to just have a nice, easy to use editor for the creation of relatively simple models, but it could potentially grow into something much more powerful.
If you want to know if this can be used as a level editor, then I'd have to say that for me personally it's more of an afterthought right now, although I do have some vague ideas of how I'd like that to work. With a few tweaks it could already serve as a basic object placement editor, though.
Here's a list of some already implemented features:
creation of primitive objects (box, sphere, cylinder);
creation of helper objects (axis tripod, texture projector);
transformation of objects;
choice of coordinate spaces (world, screen, local, picked object);
choice of transform centers (selection center, coordinate space origin, local origin, picked object origin);
subobject editing (creating, transforming, deleting) at vertex, edge and polygon level;
polygon smoothing: un/smooth the currently selected polys together as a group, or adjust their smoothing by adding or subtracting the smoothing applied to another polygon;
the normal direction and, to some degree, the triangulation of a new polygon can be controlled during its interactive creation;
textures (and everything related, from filtering to transforms to multitexturing) and basic Panda material properties are merged into one Material class, allowing the user to create such a material once (in a library) and add it to any number of objects afterwards;
it is however also possible to simply load a texture from file and apply it to the selected object(s); it will be added to an implicitly created material that can be extracted from the object selection afterwards for further editing;
similarly (using the Material Toolbar), any (basic) material property can be changed for the material(s) already set on the object selection;
texture coordinates can be edited in a dedicated UV Editor (at the vertex, edge and polygon level);
entire UV sets can be copied and pasted, while any UV set can be exported as a template;
every user action can be undone and redone, because of a non-linear, branching history system; when entering the History Editor, the user is presented with a simple list of events, therefore not immediately burdened by the added complexity of a hierarchy; each "node" is represented by a dropdown box where each entry is the start of a different timeline;
to make navigation a lot easier, events can be given a user description and marked as a "milestone" that can be jumped to by selecting it in (yet another) dropdown box; this system makes it possible to store several different versions of a scene into a single file;
additional management tools are provided to keep the hierarchy small and tidy: events can be merged down and entire branches of currently undone events can easily be deleted.
Happy holidays, everyone

!
EDIT:
This topic was created to formally introduce my project before I made it publicly available on GitHub; it should not be used to discuss the project in its current state.
The information in this post is also outdated and will not be updated here.
Please see the topic in the Showcase forum for updates and further comments.
Thank you.