I just converted a really simple Minecraft Character from Blender to a BAM file using blend2bam character.blend character.bam
I've applied a texture image for that character in Blender and it looked fine. When importing the BAM file into Panda3d it looks all fine as well. However, when trying to change the texture to the exact same texture image I used in Blender (yes, it doesn't make sense to change the texture to the same one but I am just doing this for testing - different textures will be applied when it works at all), but this time using code in Panda3d, the character's texture seems to be blended with an anthracite color.
Then I saved my character.blend without a texture applied. When I then tried to set a texture using Panda3d, the whole character got an anthracite color.
I think it could be possible that the texture is somehow misaligned, because the texture image I'm trying to apply has that anthracite color in it. But then, why has the whole character that color? And why would this even happen if the same texture applied in Blender and exported to BAM would work?
Could you help me?
This is the relevant code:
    m = loader.loadModel("character.bam")
    m.reparentTo(scene)
    ts = m.findTextureStage("*")
    m.setTexture(ts, loader.loadTexture("skin_adventurer.png"), 1)

This shows all the relevant Blender stuff: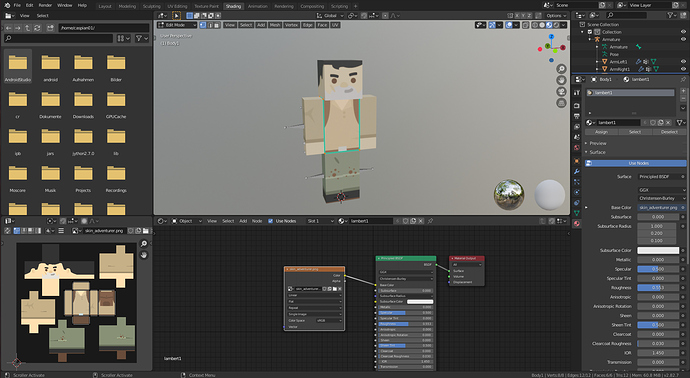 And this is my BAM file: https://filebin.ca/5NxFRuKLZosc/character.bam