What Is It
This is a little framework where it is possible to browse with ease a collection of panda3D programs, either sample snippets or whole videogames, see and modifiy the script code and see each sample at work in the same environment, and with the power of WxWindows widgets library: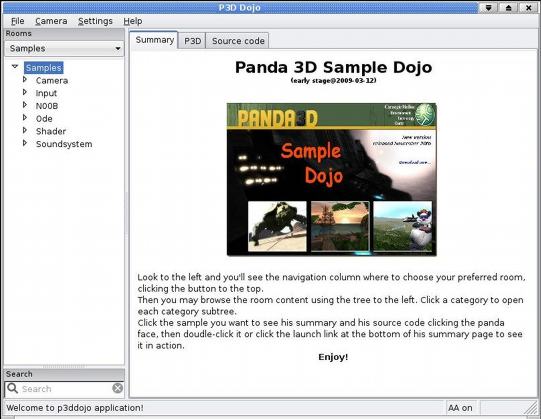 As you can see in the image above, there is a searching box where you can reap just the applications you want, to the upper left a selector to switch between sample and game rooms, a Camera menu where to switch antialiasing and fps meter on and off.
Here some screenshots of the P3DDojo in action:
The application is actually at an early stage so it is not at his full potential and there should be issues here and there, in fact if you got Panda3D 1.5.4 for Windows installed with the official installer, it is quite possible that the Dojo won't work very well, but it works quite nice with my Ubuntu machine.
So, the environment sure to work with is:
Panda3d 1.6.2 on Ubuntu 9.10 and wxPython 2.8.10
Let me know if you just tried a different setup succesfully so I'll put it here for reference.
The Files
[size=75]== Main package @ 2009-11-03
The main application files. It needs to be fed with a data pack (see below) to be really useful.[/size]
p3ddojo.zip
Create a folder and unpack into it the whole zip (e.g. using the 'extract here' command) and start the application issuing from console:
python p3ddojo.py
[size=75]== The Rooms @ 2009-11-03
The dojo content is organized in rooms - actually there are just two and with little things into but is probably going to grow in the future.[/size]
rooms.zip
Unpack it into the same folder you have unpacked the main application (e.g. using the 'extract here' command)
It would be nice to have some feedback especially from ppl having tried it on systems other than ubuntu linux or different configurations just to see how it works out there and of course suggestions on how to improve or make it better are welcome as well, so feel free to drop a line below here to talk about it.