Hello, I am trying to use the NodePath.ls() function, but it simply does not print anything. No errors either. What am I doing wrong? Here is an image of the console where I typed the function.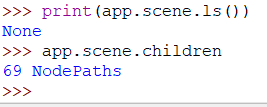 As you can see, app.scene has 69 children.
I hope you can help me. Thank you!