This is a refreshed looking and gripping demo as from the official pack, but with other actors, sets and more meat (just a little).
I fired the cute former actress with a more pand-ish one called Charlie that do the previous job to grab some object but this time you can dress it up with some suits, 'cos at start he's barely naked (PS: no fear, he's far over 18yo):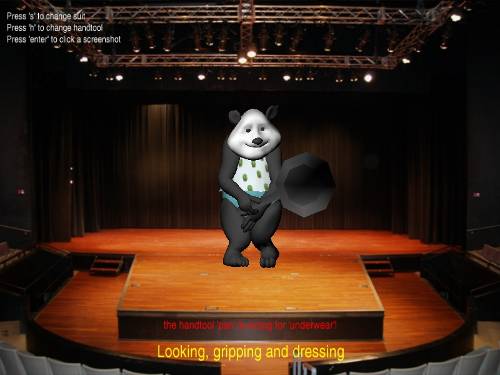 .
You may also try to set the appropriate hand tool if you want, or a wrong one just for fun. Anyhow with this a beginner should learn how to make and play with an animated multipart actor, to expose a joint and use it to stick a model on and to dynamically interact taking control from it.
You'll find the base package here with pythons, eggs and stuff.
Here on the other hand there is the blender source where to find the real Charlie and his wardrobe, with some comments and little hints on how I did the things you see in the demo.
For feedbacks and Qs I'm always here listening
enjoy!