I'm not asking you to add it, just tell me how to add a bam/egg object has a precise coordinate ?
I added this week-end a more user friendly frame to place object at the surface of a body, here is for the curiosity rover :

spacecraft:
    name: Curiosity
    parent: Mars
    radius: 0.0015
    surfaces:
      - shape:
          type: mesh
          model: models/vtad-curiosity.glb
          rotation: [0, -90, 0]
        lighting-model: pbr
        attribution: nasa-vtad
    frame:
      type: surface
      long: 137.4417
      lat: -4.5895
    orbit:
        type: fixed
        position: [0, 0, 0]
        global: false
    rotation:
        type: fixed

And here is the result in app :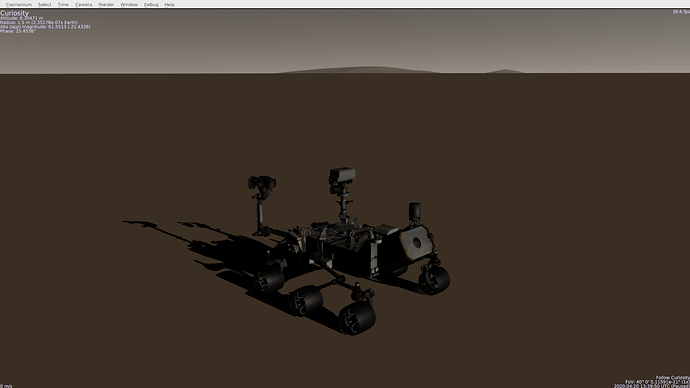 But as you see, the resolution of the global elevation map is to coarse and the terrain is almost flat except for a few mountains in the background… There are high resolution DEM available, but they're huge (the raw DEM for the curiosity landing point is about 23GB) I will write a tool to extract part of them and align it on the low resolution map.
Other question, Is there a basic physics/collision of planets field? For example, to roll a rover to Mars on the field like your ralph example (but in mars and with a rover instead of a ralph)
Ah, well for that it's not possible yet on a planet, but the building blocks are there : there is a nav mode to "walk" on a planet and follow the terrain, I need to modify it to move not only the camera but also a mesh.
I have friends who teach high school and he was interested in visiting planets for her students
Would you know how to add an object to a planet ? for example apollo 11 lunar module at real coordonate ?
With the latest develop version, it's now possible

However, Cosmonium is still in heavy development and perhaps more mature tools would be better for your friend (Though I would be happy to learn from their usage and improve it

)